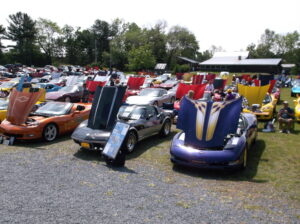 We hope the following information will acquaint you with our Club, its activities and the benefits of belonging. VIP, Ltd. was incorporated on October 6, 1983, as a non-profit Corvette Club based in the Capital District hosting year round activities for its members. These activities have included such things as road rallies, attending and sponsoring car shows and monthly social functions. The Club sends out minutes of each General Meeting keeping you abreast of what's happening with the Club and other Corvette news. It has a close affiliation with, and is a Club Member, of the National Corvette Museum (NCM) and has participated in the National Corvette Caravan to Bowling Green, KY. The next Caravan is taking place Labor Day Weekend of 2019.
We hold monthly meetings and although not mandatory, we encourage members to attend to find out what the Club is doing as a group. We also announce information of interest about other Clubs and general Corvette news. The Board of Directors also meet monthly at a date and time announced at the General Meetings.
VIP schedules monthly social events. During 'Corvette weather', these events normally include such activities as day trips to nearby tourist attractions, BBQ's, picnics and overnight trips to interesting destinations. We are very active in attending other Corvette Club car shows as a group. Our Club also has 'club apparel' that is available to purchase.
For the past several years, through various fundraisers, VIP members have supported Double H Ranch in Lake Luzerne, NY. Each year at our Holiday party we give a donation to this camp which supports children with serious illness.